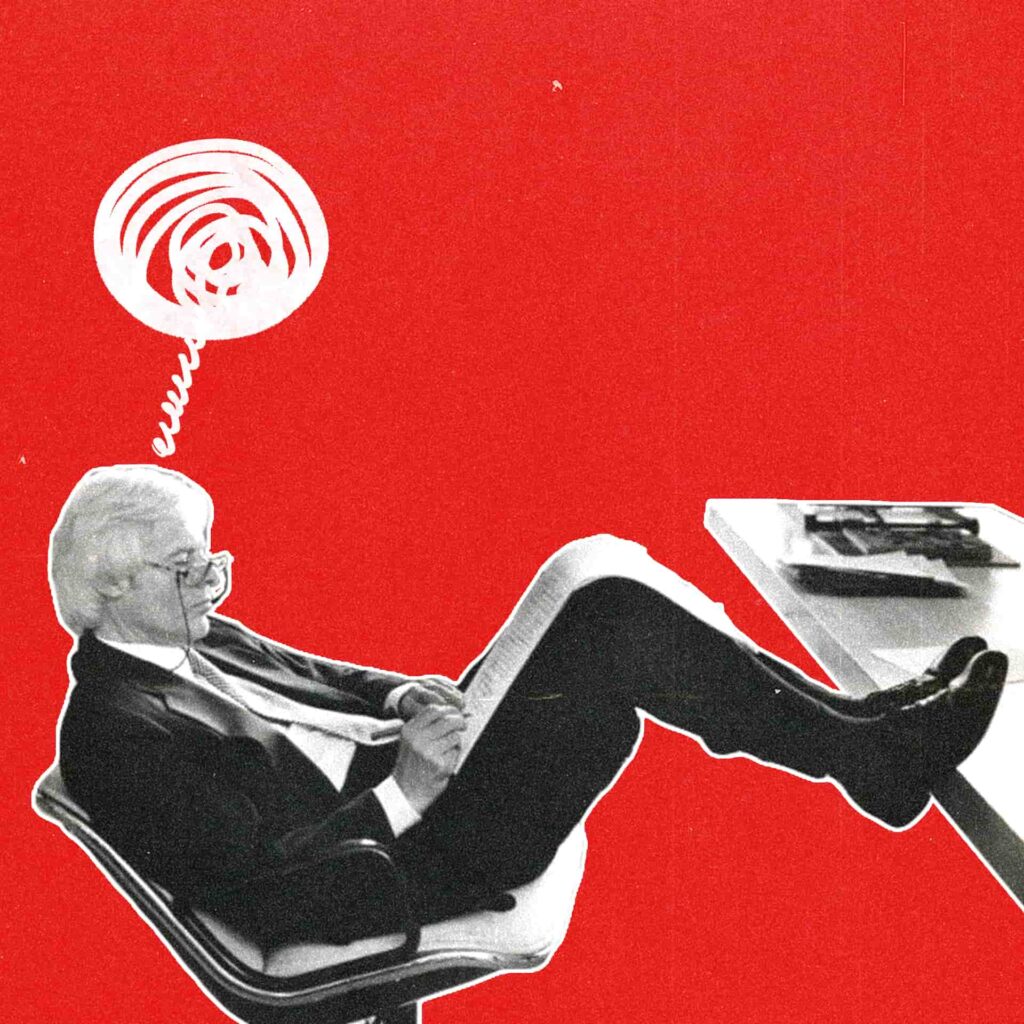 Very few copywriters can claim the amount of impact they've had on the world that David Abbott can.
His work for Volvo, The Economist, and Sainsbury's has made, makes, and will make copywriters and advertisers drool over for decades. You just can't be as cool as David Abbott.
So, what made the man behind the pen the David Abbott?
Britain's finest copywriter.
Born in 1938, David Abbott grew to become one of the greatest copywriters in the world. Abbot began his career at Doyle Dane Bernbach (DDB) in the 1960s.
During his time at DDB he was involved in some of the groundbreaking VW Beetle ads. The pure genius behind the Beetle campaign was to bet on its weaknesses. Going into a market with roaring V8s the Beetle was a breath of fresh air for the North American market.
And… kind of ugly.
No wonder why one of its most standout ads featured comedian Marty Feldman with the copy below reading:
"…if he can make it, so can Volkswagen." The copy read: "No disrespect intended, Mr Feldman, but no one would mistake you for Gregory Peck. Yet you've made it right to the top. On talent … The Volkswagen isn't pretty, Mr Feldman. But it's got talent."
Starting the Abbott Mead Vickers agency.
In 1978, Abbott took on to found his own advertising agency — AMV.
If there's one thing that makes copywriters and creatives thrive in the workplace, it's having a great workplace.
Sit Frank Lowe once said in an interview with The Independent:
"In the 1970s and '80s, in my view there were three great print copywriters – David, Tony Brignull and John Salmon. This does not mean that they did not write some marvellous television copy but their print writing was truly remarkable. There were times when I really felt quite jealous that David wasn't with us at CDP [Collett Dickenson Pearce]. He was a giant in the business and there are very few giants left."
By all accounts, David Abbott made sure the Abbott Mead Vickers agency was a place for great creative output. He was the driving force in making advertising a field worth working in in the 1980s and 1990s. During the 89 – 93 recession, the agency had a policy of no redundancies, which it kept to.
During his time working at AMV, Abbott let his work do the talking. His clients were Volvo, Chivas Regal, The Economist, the Yellow Pages, and Ikea.
One of the most important campaigns in Abbott's career must be Sainsbury's. What AMV produced, as an agency, turned Sainsbury's into one of UK's major supermarkets. Not only that, but it was the first campaign treating female shoppers as intelligent, quality-oriented, and looking for more than just the price tag.
Not only that, but David Abbott has made some amazing campaigns for charities as well. His work for the RSPCA drove the point home when the RSPCA had to take down the ad because it was "shocking" and "upsetting dog lovers".
Writing like David Abbott is no easy feat.
But it can definitely be done.
As a copywriter, Abbott has shared on a couple of occasions that he's not one that'll spend time analyzing his work process.
In an interview he once shared five things that according to him every copywriter and marketer should do.
Put yourself into your work. Use your life to animate your copy. If something moves you, chances are, it will touch someone else, too.
Think visually. Ask someone to describe a spiral staircase and they'll use their hands as well as words. Sometimes the best copy is no copy.
If you believe that facts persuade (as I do), you'd better learn how to write a list so that it doesn't read like a list.
Confession is good for the soul and for copy, too. Bill Bernbach used to say, 'a small admission gains a large acceptance.' I still think he was right.
Don't be boring.
On one account, David Abbott shared that he's just comfortable with the job and knows his process.
"I don't panic and I know that the best thing for me to do when tired or thwarted is to walk away from the ad and do something else."
The most shocking thing about David Abbott's writing might be how unsurprisingly ordinary it is.
"I am a fast writer and in a sense I am not interested in words. I don't own a Thesaurus, I don't do crosswords and my dictionary has pictures in it. Words, for me, are servants of the argument and on the whole I like them to be plain, simple and familiar."
No wonder why Abbott's copy was "easier to read than to ignore". (in the words of Alfredo Marcantonio.)
From the tablet, to the tabloid, here are David Abbott's most memorable ads.